MICROBIAL PROFILING AND METAGENOMICS PROJECTS.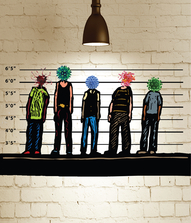 Profiling microbial mixtures refers to identifying bactria in a certain community and their abundance, by applying massively parallel sequencing for this task. We have developed a method that profiles any community to an extremely high phylogenetic resolution and accuracy. The method is termed COMPASS, that stands for Convex Optimization for Microbial Profiling by Aggregating Short Sequence reads (pdf). Theoretical analysis of COMPASS appears in (pdf), and an application of the method appears in (pdf). We currently follow several directions in applying these ideas, several of which are shortly described below.

Cancer microbiome – This project, performed in collaboration with the Straussman lab at the Department of Molecular Cell Biology at the Weizmann Institute of Science, studies the roles bacteria play in a tumor's microenvironment and in resistance to chemotherapy. The research has several sub-projects, among which we profile the microbial content of a very large number of tumors of various cancer types. Microbial profiling, in this case, is both experimentally and computationally challenging due to the properties of the tissues tested, and various techniques have been developed in the lab to support these types of experiments. The first paper in this project, dealing with bacteria in Pancreatic cancer, has been published in Science (
pdf
).

Dead Sea related research - The Dead Sea is a unique and extreme habitat harboring interesting microbial lives that bear remarkable abilities to adapt to high levels of environmental stress. The Dead Sea is also a world renowned site for treatment of various chronic inflammatory diseases, featuring high efficacy treatment with minimal risks and side effects. In a joint project with the Meshner lab from the Arava Science Center in Ein-Gedi we follow two avenues of research related to the Dead Sea.
The first is an environmental study, where we sample several unique ecological niches of the Dead Sea profiling their microbial communities, aiming to understand the physiological mechanisms underlying their adaptation to UV, desiccation, and halophilism.
The second project studies the effects of Dead Sea therapy on human skin microbiome in view of its relevance to the treatment of inflammatory skin disorders. We follow patients of several types of inflammatory skin disorders (e.g. Atopic Dermatitis and Psoriasis) throughout their stay at the Dead Sea and also after their return to their home countries, collecting skin samples and providing both skin microbiome profiling together with an immunological profile of each individual.
This project was initiated during 2014 and is funded the by the Genomics studies for personalized medicine research grant of the Israel Ministry of Science, Technology & Space.

---
COMPRESSED SENSING APPLICATIONS IN BIOLOGY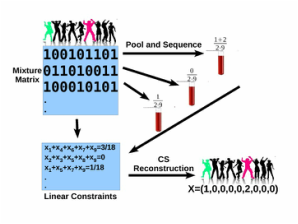 In 2010 we presented a novel application of Compressed Sensing to the problem of identifying novel mutations and their carriers in large cohorts of DNA samples via Next Generation Sequencing technology. The same method is also able to locate carriers of known mutations, e.g., in the case of genetic screening (pdf). For a general overview of the method, see the above write ups in Israeli newspapers (Haaretz daily and Galileo popular science magazine, in Hebrew) . We later validated the method by detecting rare denovo SNPs and their carriers in a cohort of more than 1000 samples of Sorghum bicolor
(pdf)
.
We are currently pursuing several other projects of applying group testing or Compressed Sensing ideas to solve biological problems.
This project was funded by the
US-Israel Binational Agricultural Research & Development Fund (BARD)

---
FORMER PROJECTS


The antigen microarray project
The antigen microarray is a high throughput device that provides an "immunological profile" of a person based on a blood sample. We were involved in the algorithmic part of this project which heavily resides on machine learning techniques. This was Noam Shental's main postdoctoral project, and he later headed the bioinformatics division in a startup company, ImmunArray Inc., that was established in order to pursue the project. Our findings in Systemic Lupus Erythematosus, Scleroderma and Pemphigus Vulgaris appeared in several publications (pdf,pdf,pdf). 

---
---
| | |
| --- | --- |
| Noam's Ph.D. work in machine learning | |
Algorithms for semi-supervised learning
We dealt with two scenarios in semi-supervised learning. Firstly, the classical scenario of a large unlabelled data set which is accompanied by a small labelled set (pdf). Secondly, we considered the scenario where partial supervision is provided in the form of equivalence constraints (pdf,pdf,pdf,pdf), which can also be considered as a constrained clustering problem (pdf).

Applications of graphical models for clustering and segmentation
We represented the problem of data clustering as an inference problem in an undirected graphical model, and applied Generalized Belief Propagation in order to solve it (pdf). An application to image segmentation was also considered (pdf).

A Graphical Models approach for a storage (hard disks) and communications (cellular phones) applications
We mapped specific hard problems in the field of electrical engineering to the field of Graphical models, and solved them almost optimally (pdf,pdf,pdf).