The Wonders of the Mind and Soul
Prof. Yoram Eshet's New Autobiography:
"A Man Walks Home"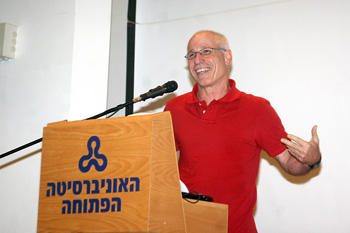 On Oct. 18, 1973 a young soldier took a direct hit to his head by a rocket attack in the Sinai. He was transported to a hospital, where he had no memory and no ability to function. Thirty-seven years later, Prof. Yoram Eshet-Alkali published the story of his personal journey, from brain injured soldier to Director of the Open University's Research Center for Innovation in Learning Technologies. His story, retold in his new book, "A Man Walks Home" is moving, enlightening, breathtaking, heart-rending and simply inspirational.
In one of the Open University's most widely subscribed conferences, hundreds of participants gathered to celebrate the publication of Prof. Yoram Eshet's new autobiography, "A Man Walks Home" and try and gain wisdom from how a single, brain-damaged soldier, who had lost his ability to speak, walk and perform basic thinking tasks, could actively return to a life completely participatory and intellectually outstanding in every way.
Most men are born but once. But, in the case of Prof. Eshet, he was literally and figuratively born again. His first 'death' occurred on October 18th, 1973 during the Yom Kippur war when his head took a direct hit and pieces of his brain were scattered on the ground around him, his left hand was crushed by a piece of shrapnel, and another large piece of shrapnel was stuck in his lung.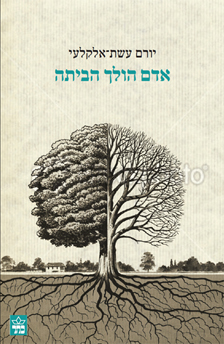 From those early days, when those around him on the battlefield and afterwards in the hospital, were deliberating as to whether or not to even proceed with any kind of medical intervention, Prof. Yoram Eshet has helped everyone who has been affiliated with this life over these past 37 years rethink their own lives. In this book, he votes for life -- for a full, active and creative life. He votes for one's ability to take his life in his own hands and make it into something beyond one's wildest dreams.
"A Man Walks Home" is more than a moving, often frustrating, but, in the end, hopeful journey. It is a book about "flourishing" according to Prof. Hagit Messer-Yaron President of the Open University "after 20 straight hours of reading (I couldn't put the book down)...this is a book that sends goosebumps through all of us."
This 300-page book (currently only available in Hebrew) is a book about heroism -- not the heroism portrayed in movies and on television -- but the heroism of one who decided that he wanted to live, and was willing to do anything in his power to do so. And not just to live, but to undertake the grueling journey, from a brain-injured soldier to earning a PhD in geology, become a researcher, lecturer and head of one of the Open University's Centers of Excellence -- the Research Center for Innovation in Learning Technologies (which just recently hosted the 6th Chais Conference.)
In re-starting his life, Prof. Eshet had to re-learn how to talk, walk, use his hands, read, do basic math. He had to learn how to write with his right hand, when his left-hand was paralyzed, he had to learn how to take notes from a 1 hour lecture on geology, when he didn't understand a single word the lecturer had said, he had to learn how to intuit oncoming traffic when he lacked peripheral vision, and how to climb steps or lecture in a large auditorium when his foot movements were heavy and cumbersome.
Yoram Eshet-Alkali's book, "A Man Walks Home" is now being translated into English and is a candidate for Israel's prestigious Sapir Award for Literature.
Prof. Idan Segev, the David & Inez Myers Professor in Computational Neuroscience and former director of the Interdisciplinary Center for Neural Computation (ICNC) at the Hebrew University of Jerusalem, was "amazed at what he [Prof. Eshet] has accomplished." After all, "I can give a scientific explanation of what may have happened inside of Yoram's brain...an out-of-laboratory experience. But in effect, Yoram was the laboratory he created the experiment, he did the experimentation, night and day, and he was the result."
It was Yoram's life which Prof. Segev referred to as a 'virtuoso life' that left all in the audience mesmerized and humbled.