Forced Labor Camps During the Holocaust:
Was There an Economic Purpose Behind It?
-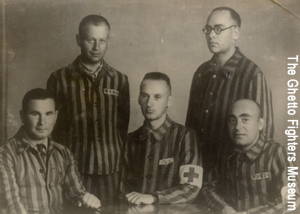 Five Jewish doctors who eventually succeeding in escaping from a Labor Camp.
Dr. Idit Gil did not intend to research forced Jewish labor. But, when her father, an Auschwitz survivor, asked her to find out what happened to his older brother during the Holocaust, she began to uncover a wealth of information on a subject that, until now, had been barely analyzed.

Millions of Jews, foreigners and prisoners-of-war were forced to labor in Nazi labor camps during World War II throughout the Nazi territories in Europe. There were an estimated 3,000 labor camps, some part of the nexus of larger concentration camps, and others independent.

In spite of the millions who were deported and eventually exterminated there, relatively little research has been conducted on these camps and the entire issue of forced labor during the Holocaust.

"Most Holocaust studies," explains Dr. Idit Gil, faculty member of the Open University's Department of Sociology, Political Science and Communication, "focus on two major subjects: mass killings and rebellions." True, there has been research conducted on specific forced labor camps on a country by country basis, but there has not been a comprehensive, across-the-board analysis of the types of labor conducted at the various labor camps (be they concentration camps, factories or forced labor camps), whether they had an economic purpose or were political, and how the financial needs of the German war machine integrated with their nationalist-racist ideology and found expression in the labor camps.

Viewing the historical records -- from Yad Vashem, German archives and the Holocaust Museum in Washington, D.C., where Dr. Idit Gil spent the past four months -- and interviewing, listening to and reading hundreds of individual testimonies, Dr. Gil is researching a 'group' of 2,200 individuals who were incarcerated in the network of Radom labor camps and then were transported to various concentration camps in the Reich.

"The dynamics that took place over an extended period of time can teach us more about this time period. This can also contribute to our understanding of Nazi policies regarding Jews, and learn how some Jews did, in spite of everything else, managed to survive."


A Personal Interest
Dr. Gil did not begin her research project exactly on this subject. She had another idea in mind, but when her father found out that she would be visiting Yad Vashem to conduct research, he had a simple request. "I lost track of my brother in Auschwitz. Can you find out what happened to him?"

For 63 years, Idit's father did not know what happened to his older brother. Separated at the beginning of the war, her father was sent to Auschwitz. It was there that he caught a quick glimpse of his older brother alighting from one of the transports. They waved to each other just before his brother was marched off in the opposite direction.

"While at Yad Vashem, I discovered that my father's brother had been transported to Natzweiler, a large concentration camp about 30 miles southwest of the city of Strasbourg, with 50 sub camps in France and Germany, including forced labor camps in France, close to the German border. Located in the Vosges Mountains, Natzweiler-Struthof, as it was officially called, was the only concentration camp established by the Nazis on present-day French territory. I wrote to the ITS Holocaust Archives in Bad Arolsen, Germany, which by then (May 2007) had finally opened their files to the public."

These archives contain 50 million pages, in thousands of filing cabinets situated in 6 buildings, and sitting on 16 miles of shelving. They consist of scraps of paper, transport lists, registration books, labor documents, medical records, and finally death registers. They record the arrest, transportation and extermination of the victims. In some cases, even the amount and size of the lice found on prisoners' heads were recorded.

As the Allies conquered Germany and entered the Nazi concentration camps beginning in the spring of 1945, they found detailed records kept by the Nazis. The documents were taken to the German town of Bad Arolsen, where they were sorted, filed and locked way. In 1955, the International Tracing Service (ITS), an arm of the International Committee of the Red Cross, was put in charge of the archives.

From that time on, outside of a handful of requests from survivors or their descendants, the files were closed to the public. In response to pressure from researchers and Holocaust survivors the files were finally opened in May 2007.

"The ITS had records showing that my father's brother was transported within the Natzweiler system to Bisingen (in southern Germany, near the borders of Austria and Switzerland) and died due to 'kidney failure' on 14 December 1944 at 7AM."

"In October 2007, my father and I traveled to Bisingen to erect a tombstone for his brother."