Open University's Entrepreneur's Club Goes International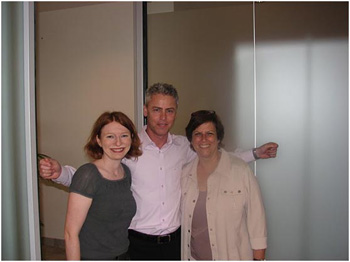 Julia Minkowsi (l), Prof. Hagit Messer-Yaron (r), The President of the Open University of Israel, Eitan Sapir, Manager of Bank Leumi Silicon Valley, Palo Alto, June 27, 2011.
The University's first international branch of the Entrepreneur's Club opened in Silicon Valley. That is thanks to Julia Minkowski, who is no stranger to being first. She was among the University's first MBA students, is one of the first graduates to enjoy an enormously successful exit with another start-up she partnered, CashEdge and also, is one of the first graduates to co-found with her husband a Silicon Valley company, BrilTX. How did she do all this (while still shy of 35)? "I have the Open University to thank. They gave me the extensive knowledge, decision-making and time management tools I needed to succeed."
It's hard to imagine that when Julia was 17 years old and making aliyah on her own from Moscow, that she could have planned her life as well as it is turning out. She was among the first students to be accepted to a new government initiative in 1999, "Machsheva" to train the 'best and the brightest' of Israel's university graduates for a career in technology. An intensive six-month program, by the time she and her fellow students were attending their graduation ceremony three weeks after completing the program, all were already employed by emerging hi-tech firms.
Holding in one hand her undergraduate degree in sociology and geography from the Hebrew University of Jerusalem (why geography? "I loved the subject and won several inter-regional competitions in Moscow, Russia") and in the other hand her newly gained knowledge of computer programming, she found employment as head of billing operations in Tevel Digital, one of the first cable television companies. "This was the kind of job where you had to be present all the time." But she was not content. She wanted to continue her studies. "I knew how to manage computers, now I wanted to learn how to manage the entire organization."
Zeroing in on the Open University
Where could she study business management? She needed a program that would allow her to continue her more than full-time job at Tevel Digital and still gain the skills she needed to move ahead in her career. After conducting a thorough search, and consulting with her colleagues, many of whom themselves were graduates of the Open University, she zeroed in on the Open University.

But there was one hitch (and here, you can see the incredible sense of initiative and determination that is part of Julia's personality). The Open University did not have a master's program in business yet. We are talking about the year 2000. So, she persisted. She called the central office, spoke with counselors, and also spoke with Dr. Arie Nachmias, who eventually became head of the MBA program. She was advised that the program was 'still in the works', the 'books were still being written' and the 'content still needed to be drawn up.'

She advised the University that there were a lot of candidates for the program and it made sense to launch it, even immediately. Julia had already decided to pre-empt the program and took courses in linear algebra and economics. The University did launch the program shortly thereafter in Fall 2003, and Julia came on board to join the 30 or so students who were the first Open University MBA students.

"The Open University afforded me a lot of flexibility in more ways than you can imagine." Yes, she could continue to work, and attend on-site or video conferencing classes as they fit her schedule. But, shortly after beginning, she discovered that she was pregnant, and felt that "a new job, a new master's program and a new baby" were a lot even for Julia. A short break, three children later, and Julia was back 'in the saddle.'

Before returning to the master's program, however, "I had a heart-to-heart talk with Dr. Nachmias who was very encouraging" and from that point on, it seemed that nothing could stop Julia (and who would want to?) She, her husband and three children moved out to Silicon Valley, and between family life and the launching of their new company BrilTX, a company that specializes in Identify Fraud Detection, Data Governance and Software Systems Integration, Julia still successfully completed her MBA program with Open University. "I was excited to be so far, but also felt close, because I was able to watch the video conference classes and participate in discussions."
Crossing Disciplines and Borders
"My colleagues at work in Silicon Valley were amazed at the level of materials that the Open University was providing. They saw that many articles, carefully selected by the University's course development teams, were from America's leading universities. They were also impressed with the video-conferencing, high-quality textbooks, and the University's appreciation of their students multi and inter-disciplinary thinking."

In fact, it is the latter -- the inter-disciplinary nature of Julia's education -- remember, she has an undergraduate degree in sociology and geography from Hebrew University, a computer programming degree from John Bryce Center, and an MBA from Open University -- that helped catapult Julia's company from providing advice on risk management and fraud detection to 700 banks to now extend successful risk management strategies to some 10,000 banks throughout the United States.

Recently, CashEdge, where she is one of the key risk advisors, was acquired by Fiserve for $465 million.
Opening an Alumni Club in Silicon Valley
Julia's successful exit is not exclusively with her business, however.

Earlier this year, after talking with Dr. Arie Nachmias, and watching a video conference of the Israel-based Open University Entrepreneur's Club, Julia realized that she -- and other fellow Open University alumni and students -- could help each other and other Israelis by establishing an Alumni Chapter in Silicon Valley. Their goal "to provide a networking platform for Open University alumni in the San Francisco Bay Area."

They have already hosted the President of the Open University, Prof. Hagit Messer-Yaron ("a fascinating visit and a fascinating woman") and had two joint Open Cafe conferences with the Ra'anana campus using video conferencing technology. "These meetings," as Julia explains "enable us to open up discussions on new technologies, entrepreneurship, share start-up ideas and give advice to each other."

Julia has some more plans for the future, including some new business ideas. And, with her track record to date, we have no doubt that she will succeed. "I learned a lot at the Open University. More than the subject matter, which was on a very high level, I also learned about time management and I learned how to 'learn'. That has made all the difference in my life."