Chilling Insights: Genocide Conference at Open University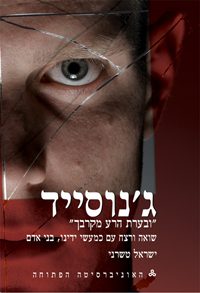 Academicians, businessmen, lay people and soldiers gathered in the University's Chais Auditorium for two conferences on Genocide, organized by Prof. Yair Auron.
Prof. Israel Charny, author of the University's 12th book in its series on Genocide, was joined by Prof. Yoram Yuval, psychiatrist and brain researcher from the University of Haifa and Prof. Mordechai Kremintzer, Vice-President of the Israeli Institute for Democracy in an intense discussion of how best to address the phenomenon of genocide.
From three very different vantage points, all participants found themselves agreeing that the only effective way for treating or dealing with mass murder and genocide is prevention. The question of how best to prevent was put before them.
"In spite of our progress in the field of psychiatry and pharmacology and our treatment of everything from psychosis to autism" explained Prof. Yuval, "we have no effective way of treating rage and anger. We don't know why people commit mass murder. So how do you treat something whose causes you don't really understand? You try to prevent it. That is the best possible treatment."
These sentiments were echoed by Prof. Kremintzer, who claimed that "first we have to defend democracy, where the likelihood of genocide taking place is less likely. Yet, unlike dictatorships, democracies gradually deteriorate, and that's where its defenders have to hold firm." Kremintzer encouraged society and educational institutions, to nurture individualism and imbue people with the tools to be able to stand against the majority and not necessarily to follow the general consensus, when they believe the majority is wrong.
Charny's approach focuses on the individual, and, in so doing brings some painful questions to our doorstep: "What do I think when I see someone of a different race?" "What am I willing to do in order to succeed?" "To what extent am I willing to humiliate someone else to make myself feel better, or simply to be considered 'part of the gang'?"
The answers to these questions can be revealing and chilling.