Open University Foundation
New York Gala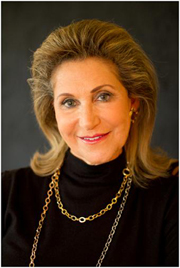 Ronnie Heyman

A Phi Beta Kappa alumna of Radcliffe College and Yale Law School, Ronnie Heyman has distinguished herself in the business, philanthropic and art worlds. She is the Chairman of GAF Corporation and International Specialty Products, Inc. and the Managing Partner of Heyman Properties.

Along with her late husband, Samuel J. Heyman, Ronnie pioneered numerous philanthropic endeavors. A primary focus of the Heyman family has been promoting service in the federal government. In 2001 the Heymans founded the Partnership for Public Service in Washington. They also established an innovative program at Harvard Law School designed to encourage students to enter the federal government upon graduation. This initiative was later replicated at Yale Law School and Seton Hall School of Law.

Promoters of excellence in higher education, the Heymans initiated numerous projects at Yeshiva University, Duke University, Yale University, Yale Law School and Harvard Law School. Ronnie's extensive list of communal service includes leadership roles at Albert Einstein College of Medicine, Barnard College, Harvard Law School and the Israel Museum.

President Clinton appointed Ronnie to the National Endowment for the Arts, 1996-2001. Ronnie's distinguished contribution to the arts was also recognized with the coveted award from the Foundation for Jewish Culture in 2001.