A Fighter Pilot and Researcher of Nanometer Threads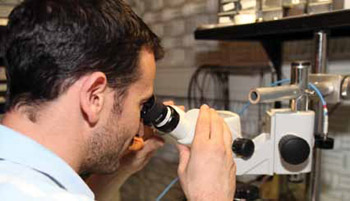 D., a reservist fighter pilot, is doing his doctorate at the Weizmann Institute of Science. His brother is doing his post-doctorate at Berkley, and his sister her post-doctorate at Harvard. Besides their family name, the other thing that they all have in common is that they all studied at the Open University of Israel. Last year, D's name appeared on a breakthrough article that appeared in the prestigious publication, Science.

D. is a handsome 32 year old. Nothing of his external features point to the extremes in his life -- once a week he is a fighter pilot soaring across the skies, and the rest of the week he is a doctoral student hunched over a microscope in the Weizmann Institute laboratory living in the world of nano-technology (a world in which threads measure a thousandth of a millionth of a meter.)


A Pilot that Never Built a Model Airplane
D. (whose full name we are prohibited by the Israel Air Force from publicizing) is a graduate of the Open University of Israel, whose faculty, according to D. is comprised of "people who really want to teach, rather than those who are there because someone has punished them and they are being forced into teaching. They just love it. That's the feeling they convey when they put the student before anyone or anything else."

D. grew up in Givat Ada in a family, that in his eyes, was average. But, with hindsight, it's hard to imagine that this was, in fact, the case. His father did his post-doctorate in plant studies at the Weizmann Institute, and his older brother (2 years his senior), is now doing his post-doctorate at Berkeley in physical chemistry. His sister, two years younger than D., is doing her post-doctorate at Harvard in bio-statistics. D's mother has 'only' a master's degree.

The Open University of Israel became part of their lives during high school, when D.'s older brother began to take a few courses. He enrolled in what was then called the "Combat Certificate" program, and the OUI courses were designed to shorten his academic track after he finished his army service. D., who began to show an interest in the sciences, didn't think that he wanted to learn anything beyond what he was learning in school and preferred devoting his time to his friends and preparation for the army. It was pretty obvious to him that he would not simply join 'just any unit,' but he wasn't exactly sure where he did want to do his service. He found himself in one of the most elite units of the army -- the pilot's course, although he was one of those kids who never showed a real interest in that, nor had he ever even built a model airplane.

As D. recalls, "this was a world with which I was absolutely not familiar -- but from the very first moment that you are exposed to it, you see what an amazing world this is. And, I am pleased to be part of it." In the end, D. completed the fighter pilot's course -- and flew F16's -- and this is the elite of the elite.

"In my day," D. continues "pilots served 8 years -- three years regular military service and another five years as part of the standing army. At some point in time, I realized it was time for me to expand my horizons."

It was pretty clear to D. that his best option for continuing his studies while doing his military service was the Open University of Israel. He had understood from his brother, who had studied at OUI that "the University works together with you, and enables you to learn at your own pace."

When he began his studies, he was living in the center of the country, and so the Ramat Aviv campus seemed to be a natural choice. Unfortunately, the demands of his military service meant that D. was hardly in the classroom. But that flexibility is exaactly what enabled him to pursue a degree and military service at the same time.