OUI NOW MOOCS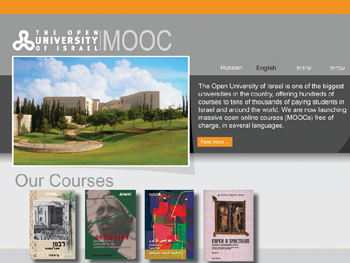 MOOCs is the hottest trend in higher education across the globe. And, now the Open University of Israel is the first Israeli university to take part in a European consortium responsible for launching a broad-based, multi-lingual global MOOC initiative.

What are MOOCs? MOOCS are an acronym for Massive Open Online Courses. They provide opportunities for people of all ages and at all locations to study, without cost, university level courses within the comfort of their homes, offices or wherever they so desire.

Joining a list of a dozen other European universities offering MOOCs, within the framework of the EADTU (Europe's network for distance teaching universities, of which the Open University of Israel is a member), the OUI is launching MOOCs in four languages -- Hebrew, Arabic, English and Russian -- the only University to do so. Currently the courses being offered include: The Modern Middle East (Hebrew), Jews and Christians in Western Europe (Russian), Educational Psychology (Arabic) and Genocide (English.)

Dr. Yoram Kalman, of the Department of Management and Economics, and Director of international academic initiatives at the Open University of Israel, explains, "MOOCs are revolutionizing the public perception of online higher education. They are also shifting the balance of power in the higher education sector. The Open University of Israel is excited to be a leader in this global experiment and I invite everyone to join one of our MOOCs and experience the power of open online education."

The courses will run over a period of nine weeks. Upon completion of the course work, participants will receive a certificate, and while currently, participants are not eligible for course credits, "eventually the option of offering credit for MOOCs will be discussed," Kalman reports.

The Open University of Israel's MOOCs are a cooperative venture among Shoham The Center for Technology in Distance Education, the academic faculty and The Research Center for Innovation in Learning Technologies.