From the Supreme Court to the Open University
OUI's New Chancellor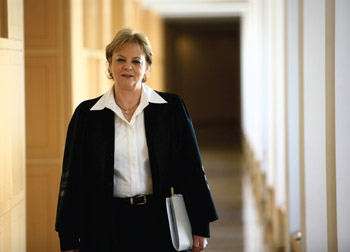 The Open University of Israel's Council appointed President of the Israeli Supreme Court (ret.) Dorit Beinisch as the new Chancellor of the Open University. Supreme Court Chief Justice (ret.) Dorit Beinisch recently assumed the positions of Chancellor and Chair of the Council, following the retirement of Lord Woolf, who had served in these posts for the past eight years. Lord Woolf, former Lord Chief Justice and President of the Courts of England and Wales (ret.) has been a colleague and friend of Justice (ret.) Ms. Beinisch for many years.

Said Justice (ret.) Beinisch, paying tribute to Lord Woolf, "I look forward to playing a role in the Open University, which you have so wisely chosen as the object of your dedication for the past eight years, and I will do my best to fulfill the expectation of those who trusted me in this unique institution."

This is not only the first public role that she has agreed to undertake since her retirement as Chief Justice of the Supreme Court of Israel, but she is also the first female to serve in this position. Since her retirement from the Supreme Court a few months ago, she had been deluged with offers to serve in a variety of distinguished positions. Yet, as her first public role she chose to accept the position of Chancellor of the Open University of Israel.

Why?

In her exclusive maiden interview with OUI's Hebrew-language publication, "Adcan," Dorit Beinisch explains why she chose the Open University of Israel over other academic institutions and explained much of her vision for Israeli society We are happy to share with you some excerpts from this extensive interview.

It is Dorit Beinisch's deep concern about the future and fabric of Israeli society that was the primary motivating factor for her decision. "The social, societal element of the Open University of Israel, is what attracted me, and that is why I agreed, after deliberation, to accept the position."

"After my retirement I didn't want to take too much upon myself, and I was careful not to obligate myself to new positions for the present time. But, two years ago, I had an opportunity to visit this institution and I was sufficiently impressed with its role in society. If there is one thing that really speaks to me, it is education in general, and higher education in particular. The broad accessibility of education that this institution grants to sectors who have difficulty attaining higher education, in my eyes, is quite impressive. That is the most attractive element of the Open University of Israel."