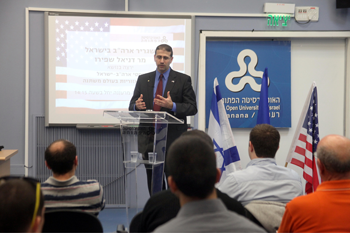 US Ambassador Daniel Shapiro recently visited the Open University of Israel's Ra'anana campus and engaged in a vibrant discussion with students and faculty about U.S.-Israel relations and regional issues in a changing world. He answered questions from a live studio audience and from audiences at four Open University campuses all over Israel. Then the US Ambassador visited Israel's largest post office and logistics center located on the Ra'nana campus which mails tens of thousands of study kits to students every semester, and its book store displaying the vast number of books that the University publishes. The Open University is the largest academic publisher in Israel.

Prof. Sara Guri-Rosenblit has been appointed Dean of Development and Learning Technologies. She was also appointed to an international scientific committee of the University of Cyprus' eLearn Center. With the creation of an international scientific committee the UOC's eLearn Center (eLC) has taken an important step towards enhancing research on e-learning. Prof. Guri-Rosenblit is also a member of the HERE Commission (Higher Education Reform Experts) of the Council for Higher Education, designed to enable the higher education system in Israel to integrate with the Bologna System in Europe, and to take an active role with other global higher education systems.

Prof. Miri Soroujoun has been appointed Dean of Research. Prof. Sourojoun received her degree in microbiology from Tel Aviv University. She did her doctorate at the Weizmann Institute of Science, specializing in Acetylcholine receptors. These receptors are located in muscles, and Myasthenia Gravis. Myasthenia Gravis (MG) is an autoimmune neuromuscular disease whereby the immune system attacks the acetylcholine receptors thereby causing muscle weakness. It was during her post-doctoral studies in Boston that Prof. Souroujon became intensively involved in seeking novel therapies for MG.
Prof.Souroujon has been a member of the Open University of Israel faculty since her return to Israel in 1987. She first joined the Department of Natural and Life Sciences, subsequently served as Dean of Academic Studies and Director of Research. She concomitantly continues the research she initially started while at the Weizmann Institute: seeking a targeted cure for MG. While neither fatal nor extremely prevalent, MG is a model autoimmune disease whose cure could lead to finding cures for other autoimmune and neurological diseases. Prof. Souroujon is one of the heads of an international consortium of MG and autoimmune researchers which was recently awarded a European Commission grant of six million Euros.

Prof. Bat-Zion Iraqi Klorman is the new Dean of Academic Studies and Founder and Director of the Center for the Study of Relations between Jews, Christians and Muslims. She has been a long standing member of the faculty of the University's Department of History, Philosophy and Judaic Studies and served as the Chair for several years. Among her areas of research include Yemenite Jews, Jewish-Muslim relations, religious conversion, and women and gender. Prof. Iraqi-Klorman has been with the Open University of Israel since 1991. She is the recipient of the 2008 Shabbazi Prize for her contribution to the Study of Yemenite Jewish Heritage and the Culture of the Jewish People, and she is a member of many leading professional societies including The Middle East Studies Association of North America, the American Institute for Yemeni Studies, the Association for Israel Studies, the Association for Jewish Studies, the World Union of Jewish Studies, etc.

Dr. Yuval Eylon, senior faculty member of the Department of History, Philosophy and Judaic Studies, was selected to be chairman of the New Israeli Philosophy Association (IPA). The IPA is a professional organization for philosophers in Israel. Founded in 1998, its mission is to promote the exchange of ideas among Israeli philosophers, to encourage creative and scholarly activity in philosophy, to facilitate the professional work and teaching of philosophers, and to represent philosophy as a discipline.

Prof. Yagil Levy was recently appointed Chairman of the European Research Group on Military and Society (ERGOMAS). Prof. Levy is the author of several books and most recently was the recipient of The Annual Shapiro Award for Best Book in Israel Studies from the Association for Israeli Studies, for his book, Israel's Death Hierarchy: Casualty Aversion in a Militarized Democracy. Throughout the years he has won special mention from the Yitzhak Sadeh Prize for Military Literature, the Tshetshik Prize for Strategic Studies from the Israeli Institute for National Security Studies, and Best Book Awards from the Israeli Political Association. ERGOMAS, comprised of hundreds of university and research institute researchers, and academician, was established in 1986. Prof. Levy is the first ever non-European to serve as Chairman. The Group's next bi-annual conference is scheduled to take place in June 2015; Open University of Israel will serve as host.

Dr. Tzahi Weiss, one of the newest faculty members of the Open University of Israel, was recently awarded the prestigious Alon Scholarship. Yigal Alon scholarships are granted to outstanding young scientists. The idea is to enable them to become faculty members of Israel's universities. These are multi-year scholarships which are awarded to recipients based on personal excellence. Dr. Tzahi Weiss is a researcher of Jewish literature and will be joining the Open University of Israel's faculty beginning the new academic year, 2013-2014.
OUI Ranks High in 2012 National Student Survey. In the 2012 Student Survey, the Open University of Israel ranked very high among institutions of higher learning in most categories. Among the country's eight universities exclusively, overall OUI ranked second and in the category of quality of courses and faculty OUI ranked third. Out of the 32 colleges and universities, students ranked the OUI fifth in student satisfaction. The survey was conducted on behalf of the National Students Association among 5,118 students from all of Israel's universities and colleges.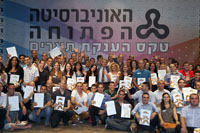 Graduates of Open University of Israel were among the handful of Israeli university graduates who have raised major funding for start-ups, according to the "Minimaxair" technology blog which focuses on IT, Internet, and media start-ups. OUI graduates have succeeded in raising $47.8 million in capital for their start-ups. While this database does not represent agro and bio start-ups and under represents longstanding companies, it is nevertheless a good representative of the start-up scene centered on Silicon Valley. The Open University runs an Entrepreneur Club which has held ongoing programs for the past five years -- including lectures of outstanding entrepreneurs, CEO's and leadership of high tech and communications companies such as Google, Ness, Microsoft, etc., and decision makers and public officials such as the Minister of Finance. The Club also holds seminars on practical topics, such as patents, marketing and legal documents. A roundtable forum allows entrepreneurs to present their projects and receive constructive criticism from experts.