OUI Students Argue Best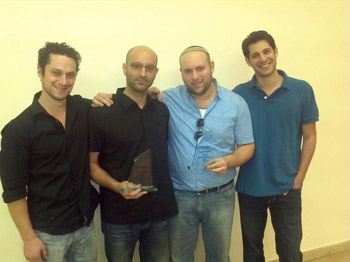 Winners of the Israel Debating Society National Championship, 2013.

(from l to r) Meir Yarom, Coach of the OUI Debating Society, Eli Shalom and Nati Danziger, National Champions, and Avihu Tamir, Head Coach of the OUI Debating Society.

Debating is a time-honored skill. Our sages debated the intricacies of law, and created a tradition of halacha that, thousands of years later, still determines much of Jewish life. In more modern times, debating club members have made their way to the upper echelons of world leadership among them: Tony Blair, Barack Obama, Bill Clinton and Bibi Netanyahu. So, when OUI students take first place in the national debating competitions, it is not just wishful thinking to expect them to hold future leadership positions.

This year the Open University of Israel's Debating Society scored some impressive achievements on both the national and international stages, the most prestigious being their recent win of the 2013 Israel Debating Society National Championship. Other wins included.


The team won in the National ISA competitions (Israel Sports Association for students)
During the Junior competitions, four out of five of the 'outstanding' debaters were OUI students
The OUI's debating team won the "Technion Open" competition
The team also won the "Big Brother" competition

On the international stage:

At the prestigious "Kiev Open" international debating competition which took place in Russia (debates were conducted in English), two of OUI's debating club members reached the two top places

Ofir Tzuman, Founding Chairman of the Open University of Israel's debating society, is proud of his team, who are virtual newcomers to the national debating societies. While Ofir is proud of all of the team's wins, winning the national annual competition, Ofir felt was a real feather in their caps. Not only is this the first time in the history of debating society that such a young team, with less than four years of experience, won the competition but "what makes these results so impressive, is that we are competing against other clubs which have been around much, much longer than us."

More than one hundred debaters, representing the twelve leading debating societies participated in the ISA competition.

Eli Shalom and Nati Danziger took first place in the national team competitions. "The judges voted unanimously, pretty impressive when you consider that the last time such a unanimous vote occurred was in 2008."

Team partners Eli Shalom and Nati Danziger are both computer sciences students at OUI; Eli is in the master's program and Nati is in the undergraduate program combined with management.

Eli Shalom ranks number two on the national list of debaters; this is an individual achievement as opposed to a team (a couple) achievement, and is awarded after six rounds of competitions.

For OUI's Debating Society, which enjoys enthusiastic support from Dr.Haim Saadoun, Dean of Students, and the Open University's Student Union, Ofir Tzuman says that "this is an investment that offers a geometric rate of return."

"Debating is a skill that improves logic, thinking, and imbues one with great self-confidence," Ofir says, but what also makes the OUI's Debating Society so special, is the fact that "we are a very focused and cohesive group."

The next Prime Minister of Israel: a member of the Open University's Debating Society?