A Tribute to the Right Honorable Lord Woolf
On the Occasion of His 80th Birthday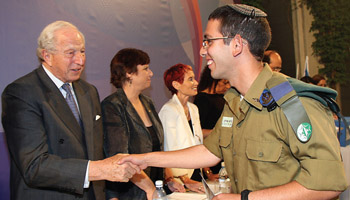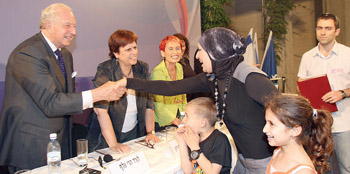 Outgoing Chancellor of the Open University of Israel
Former Lord Chief Justice of England and Wales
"It is an honour to be paying tribute to you on your 80th birthday and much more so to follow in your footsteps as the Chancellor of the Open University of Israel, the role you have so ably filled for eight years, with distinction, insight and talent… I have always had the greatest admiration for your singular qualities, among them, your special caring for the individual, for social advancement and assistance to those who were lacking, and the efforts you devoted to addressing these needs."
Dorit Beinisch, President of the Supreme Court of Israel (ret) Chancellor, The Open University of Israel
"Your distinction as Lord Chief Justice of England and Wales is recognized and appreciated and indeed your period of office was one of the greatest possible distinction…Now eight years ago, you were good enough to agree to take on the role of Chancellor of the Open University. What great good fortune for the Open University and what a wonderful expression of your deep commitment to Israel."
Lord Jacob Rothschild, Deputy Chancellor, The Open University of Israel
"During the years of your service, the Open University expanded its operations, becoming the University with the largest student enrollment in Israel. Despite the geographic distance between your home and ours, you have always been closely involved in the University's affairs and have personally followed its development. Your advice and experience have been invaluable in addressing the challenges that we faced during your term of office."
Zeev Abeles, Chairman, Executive Committee
"His dedicated involvement in the University's work over the past eight years has been an excellent contribution to defining, striving towards and achieving its mission, its goals and its objectives. He can derive much satisfaction looking back on his productive and fruitful term of serve here, advancing higher learning in Israel and assisting capable students to change their lives and make them better."
Prof. Hagit Messer-Yaron, President, the Open University of Israel