"The Open University: A Superior Training Ground for Professional Success"
An interview with Dr. Liran Edilist, CEO of Top-It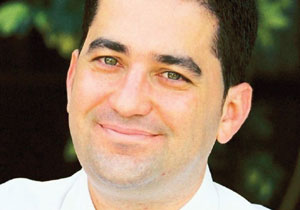 Dr. Liran Edilist, CEO and Founder of Top-It Management, an Israeli-based firm providing customized consultation and software solutions to global organizations, received his B.Sc. from the Open University 12 years ago. Yet, in spite of the many years that have passed since he graduated magna cum laude from the Open University, the lessons culled from that earlier period in his life have helped to contribute to the success of his company and his professional life.

Initially, Dr. Liran Edilist was not that different from most other Open University students. He enrolled immediately after completing his military service, with 'so-so' matriculation marks and no SAT exam. He was a young man in a hurry to 'get through' his academic track.

But, his choice of a major and his activism at the University was a clear indication that Liran was moving on a different vector than many of his contemporaries. He chose a track of studies that was not so 'popular' back in 1997 – computer science and management – and jumped into his studies, became active in the Students' Union (eventually heading the University's Students Union in Ramat Gan), and started working.

Three years later, having graduated magna cum laude with a B.Sc. degree, Liran had already begun to formulate the general direction he wanted his career to move in, "I wanted to combine working with people – (heading the Students' Union gave him a good understanding of how to manage, engage and work with people on all levels) – alongside working with the computer. Business consulting became a very viable option." And, it would not be long before Liran realized his goal.


Well Prepared for the Next Step: Master's and Doctorate
Three years in the Open University's undergraduate program had prepared Liran well for his next step – a Master's in Business Administration from Bar-Ilan University.

"My first day at Bar-Ilan was a powerful reminder of both the high level education and how well prepared I was as an Open University graduate. Unlike many of the other students in my classes, I was not deterred by the quantity of material on the syllabus. Also, unlike the Open University syllabi, I found the syllabus at Bar-Ilan – not dissimilar to other universities – to be narrower than what I had been used to. Open University syllabi are a group effort, so you are naturally getting more comprehensive material to study."

Even before completing his master's degree, Liran was working in information management systems for a consulting company, and teaching part-time, at Bar Ilan University and the College of Management, where he continues to teach today. What he admired about the Open University – the comprehensive, thorough approach to a subject, engaging the students in a wide range of perspectives and offering up a variety of opinions – he continues to bring to his classroom.

Also, even before completing his master's degree, he knew he would go on for his doctorate, this time integrating costing and production management, but always keeping his eye on information technology.


Launching a Company While Working on a Doctorate
While working on his doctorate, Liran decided that it was time to launch his own company. Top-It opened its doors in 2006.

Today Top-It has a broad customer base in Israel and the United States, focusing on financial applications which improve business performance. His client base includes some of Israeli's leading private enterprises, government companies and nonprofit organizations – among them Bezeq, the Hebrew University of Jerusalem, RAD group, Pelephone, Clal Insurance, Israel Council for Higher Education, IDB and others.

The company's expertise in budget planning, financial analysis and consolidation, BPM, GRC and OLAP powered BI applications is now also making major inroads among leading private enterprises in the United States.

Today, 12 years later, Dr. Edilist still recognizes the enormous 'added value' he got from his studies at the Open University. In fact, in a recent hiring campaign for his company, he gave preference to Open University graduates. "They are hard working, disciplined, independent thinkers and workers, and also know the importance of excellence."

Not unlike Dr. Liran Edilist himself.