Visit by NASA Astronaut, William S. McArthur, Jr.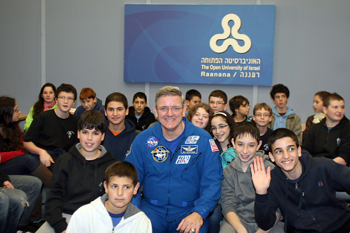 US NASA Astronaut, William S. McArthur, Jr. spoke with more than 100 ninth graders from around the country at the Open University recently. The 14-year olds are participants in the Ramon Foundation's gifted students program, established by Rona Ramon in memory of her late husband, IDF Air Force pilot Col. Ilan Ramon. The event was part of Israel Space Week organized by the Science and Technology Ministry and the Ilan Ramon Foundation, held in commemoration of Col. Ilan Ramon, who tragically perished when the Columbia space shuttle disintegrated in flight, killing all aboard.

Guest of honor McArthur, who is today director of safety and mission assurance at Houston's NASA Johnson Space Center, is a veteran of four space flights and has logged 224 days, 22 hours, 28 minutes and 10 seconds in space, including 24 hours and 21 minutes of extravehicular activity (EVA) time in four spacewalks and 6 months on the International Space Station.



Regaling the captivated students with his experiences and adventures, he opened the floor to answer their many questions – from what is it like to live on a space station to the future of the American space program.

The Open University broadcast this 'meeting of outer space' to thousands of viewers across the country. This is the second time the University has opened its doors and broadcasts to high school students viewing NASA astronauts. Last year, the University hosted Barbara Morgan.

Prof. Yoav Yair, Dean of Development and Learning Technologies at the Open University, is a Professor of Atmospheric Sciences, who served as coordinator of the Israeli research projects implemented by Ilan Ramon on the ill-fated space shuttle Columbia which came to a tragic end. Throughout, Prof. Yair's coordination between the Israeli scientists, NASA and Ilan Ramon, he maintained ongoing close contact with Ilan Ramon.

During this Astronomy Week in Israel commemorating Ilan Ramon and his crewmates, Prof. Yair participated in several events with a number of NASA astronauts in attendance, and encouraged young people from all over the country to be involved and become knowledgeable about space travel, research and space studies. "The direct contact of young people with seasoned astronauts who have lived the experience of space travel is an unforgettable event which sparks their curiousity and promotes thirst for learning more about space, the environment, geophysics and the world around us."