Blind Date with the Open University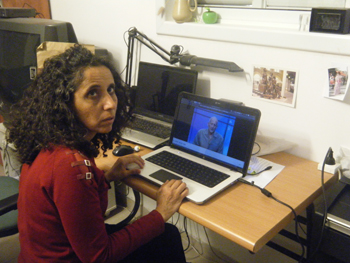 Ronit Harpaz is nearing completion of her bachelor's degree in psychology and sociology. What makes her story exceptional is not that she balanced mothering twin girls, work and academic studies. Most Open University students lead similarly demanding lives. What makes Ronit's story exceptional is that she will complete her undergraduate degree even though she lost her vision in the middle of her academic studies.

Each semester, Dana Kaspi-Tsahor sifts through 400 applications from students with special needs. As coordinator of the Division for Students with Special Needs under the Dean of Students, her job is to ensure that each student's needs – many and diverse as they are – can be more than adequately met.

Of the total number of students with special needs, the Open University has 50 students with visual impairments.

The demands upon the Open University in meeting the needs of the students with visual impairments cries out for more than efficient administration or attentive, even sympathetic ears – all of which are provided. As Dana explains, "with every student, I have to 'create' a package of specialized services – it is customization taken to the extreme."


From Smart Boards to Plasticine Models of Brains
The Open University is one of the first academic institutions in Israel to address the special needs of students with special needs, both inside and outside the classroom.

The University initially began by attending to the physical classroom to ensure that wherever students with visual impairments were learning, the classrooms would meet the University's self-defined guidelines for accessibility. This translated into providing assistive technologies for desktop computers which enlarge reading materials, outfitting classrooms with smart boards, paying special attention to the physical layout of the classroom, and making arrangements for seeing-eye dogs to enter the classrooms.

Accessibility carried over into the actual lessons, which included MP3 recordings of study materials which are sent to the students at the beginning of the semester, offering classes on closed-circuit television, instructing lecturers to use specific colors on their PowerPoint presentations known to be easier on the eyes of people with visual impairments, providing Braille textbooks, offering exams in Braille and providing home tutors – one student who is visually impaired lives in the Golan Heights.

"One of our psychology students with visual impairments," Dana recalls, "had to prepare for an exam. But many of the questions were based on illustrations of the brain. How do you show a picture of a brain to a student who can't see it?" One of the course instructors came up with a solution. She simply built a model of brain synapses out of clay so the student could feel the path of the brain's synapses.

The student passed the exam with flying colors and is continuing with her studies.