Blind Date with the Open University
...continued from previous page.
Worthy of the Extra Effort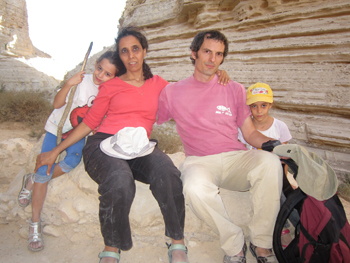 The philosophy of the University is that "everything is on the table." Rarely has the University come across a challenge for which it hasn't been able to provide an effective solution. And, it's been worth it.

In 2009, the University conducted a research study to check the perseverance of its students with special needs. The results? "Students with visual impairments showed a higher degree of perseverance than their unimpaired counterparts," Dana relates. "True, they do get a lot of help, but the fact that they enroll in the Open University means that they are already highly motivated."

Ronit's story is indicative of more than just perseverance. It's also a story of adaptability and flexibility.

When Ronit began her undergraduate studies, she and her husband, Yuval, were simply a young, married couple without children. Ronit's vision was deteriorating, but she could still manage largely on her own. When she couldn't, Yuval would read the material aloud to her. Sometimes, she would supplement Yuval's readings by listening to recorded lectures on the computer. It was tiring work for both of them.

Yuval was so inspired by Ronit's academic program that he decided to fulfill his own dream of doing brain research. After completing his undergraduate studies in psychology at the Open University, he was accepted to a direct track for his doctorate in brain research studies at Tel Aviv University. Today, Dr. Yuval Harpaz is exactly where he hoped he would be. He is a lab manager at Bar Ilan University and in charge of an MEG system (the only one in Israel), which is complex brain research equipment.

Ronit looks back at her Open University studies with relief. "I don't know how I didn't become discouraged," she admits. While the average student might be able to prepare for an exam in 3 days, Ronit needed two weeks of solid preparation. Much of her learning was built on her ability to memorize. This was no small feat, and, she was often frustrated, "I never studied to the fullest extent that I wanted to." Her academic program was a long haul, but she is considering whether to go on for her graduate degree in statistics, math or computer science. And, the Open University is "probably where I'll continue my Master's degree studies."


Expanding Horizons
The University's commitment and innovative thinking in providing customized services has secured its role as an invaluable asset to Israel's National Insurance Institute.

Today, the Open University is now part of the "Revolutionary Initiative" of the National Insurance Institute, working hand-in-hand to design and provide solutions for students with special needs. One of the current projects the University is working on is its redesign of the University's website to make it more useful for students with visual impairments.

Dr. Haim Saadoun, Dean of Students, explains the thinking behind this complex project, "the idea is to make Open University studies accessible to anyone who wants to learn and to give everyone the tools to realize their potential – to enable Ronit and others with physical limitations to be able to learn as if they had no physical limitations."

This is a tall order, but the University has a distinct advantage to offer students with special needs. "Our courses," relates Dr. Saadoun "are based on printed learning units, highly compatible for students who would prefer to learn independently at home, without being obligated to show up for classroom learning, and offer access to a wealth of assisted technologies."

But it's also the very personal touch that the University has brought. Each year, the University's Division for Students with Special Needs in cooperation with the Guidance Department organizes workshops around visits to "Dialogue in the Dark" and "Invitation to Silence" exhibits at the Israel Children's Museum in Holon.

The Division maintains ongoing dialogue with its students and their instructors to ensure that everyone is dedicated to the same goals of academic success.

Ronit freely admits that her visual impairment made it much more difficult for her to complete her studies. "However, in the end," she says, "with the help of the University, I was able to expand my horizons, and my professional and economic opportunities."