Cambridge in Ra'anana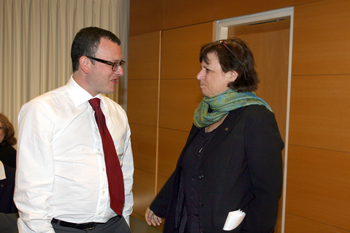 British Ambassador to Israel Matthew Gould greets Open University President Prof. Hagit Messer-Yaron

The Open University's newest cooperative arrangement with Cambridge University, brought Cambridge graduates living in Israel to the Open University's Ra'anana campus. Here, graduates living throughout the country, had an opportunity to learn more about the Open University from Prof. Hagit Messer-Yaron, meet with alumni and hear about the University's Entrepreneurs Club.

Lord Woolf and Lord Moser were in attendance and participants were interested in pursuing ongoing cooperative ventures with the University in general and the Entrepreneurs Club in particular.