Graduation Ceremonies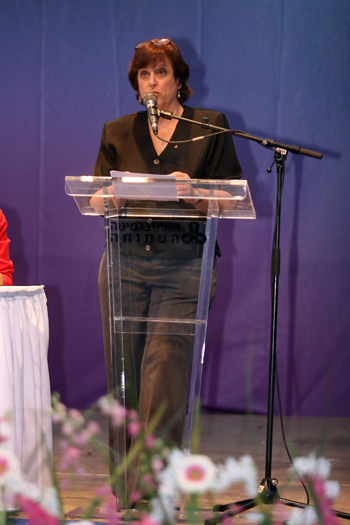 Hagit Messer-Yaron, President of the Open University, Addresses the Graduates
"You Are the Diamonds in the Crown of Higher Education"
Over a period of three evenings, as has become traditional at the Open University's Ra'anana campus, three graduation ceremonies took place. In total, 2,383 degrees were awarded.

Prof. Miriam Ben-Peretz, who received an Honorary Fellowship remarked, "the President of the Open University compares Open University graduates to diamonds. In my opinion, the Open University is a diamond, thanks to its many unique programs that are non-existent at other universities."

The Mayor or Ra'anana revealed that "one-third of my family have earned degrees from the Open University, and these degrees served as vital springboards in their professional lives."


1 Out of 5 University Students in Israel: at the Open University
Today, the Open University is the largest university in Israel with more than 45,000 students this year.

Prof. Hagit Messer-Yaron pointed out that there are 67 higher education institutions in Israel; of these 8 are universities – the Open University and 7 others – 21 are subsidized colleges, 15 are private colleges and another 23 are teachers' training colleges. The total number of students studying in these institutions came to 300,000 – 230,000 towards their undergraduate degree. Fifty-two percent are in colleges, 26% are at other universities and 19% (more than 45,000) are at the Open University.




Graduation Ceremony: May 14, 2012
The Open University has been my home since I was 16 years old. I grew up and progressed here thanks to skills I cultivated in learning how to meet challenges, solving problems and learning how to parse the essence of goals placed before me. Even though these goals seemed to be very long-term, I learned how to achieve them in a methodical way. I improved both as a student and as an individual who grew up and matured in the special Open University environment of warmth and support.

Nurit Alaloof
Completed undergraduate degree summa cum laude
Completed MBA summa cum laude
Graduation Ceremony: May 15, 2012
For me, the Open University was a warm and friendly environment that enabled me to blossom. It's important to note that all during my years here at Open University, never was I given the feeling, neither by faculty nor other students, that I am handicapped or limited in any way. Instead they encouraged and supported me, and their entire relationship with me could only be described as perfect. For me the Open University was nothing less than home and family.

Noha Abas
Blind student from Kfar Kana
Completed undergraduate degree; started Master's program
Graduation Ceremony: May 16, 2012
All graduates sitting here this evening... are endowed with a mixture of special qualities endemic to Open University students. Highly motivated, determined (same may call this stubbornness) multi-taskers and time managers, independent learning skills, the ability to update as needed, and the ability to meet challenges. As a result of the lessons learned at Open University, we are able to meet challenges in studies, as well as at our workplace and in any environment in which there is a need to solve problems and achieve goals.

Dror Cohen
BA in Philosophy
BS and MS in Computer Science