Arabic-Speaking Students Study in Arabic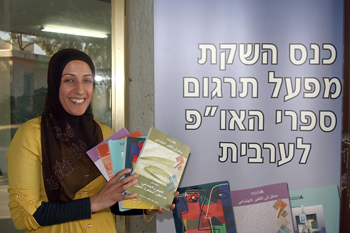 When your mother tongue is not Hebrew, how can you manage in a strictly Hebrew-language academic environment? For many, the answer is with great difficulty. Now, with the Open University's new initiative for Arab-language students underway, language barriers are coming down, and the results are encouraging -- not only for the Open University, but for Israeli society as a whole.

Arabic-speaking students often have difficulty coping with academic subjects in Hebrew because, for them, Hebrew is a second language. To enable them to raise their grades and complete their academic studies, the Open University has created a multi-faceted program to lower the language barrier among Arab students, while concomitantly retaining the academic level.

Now, at the Open University, Arabic-speaking students can be tested in their mother tongue, submit their assignments in Arabic, and have an Arabic instructor for their tutorial sessions during their first six courses. A number of tutorial sessions are conducted in Arabic. Together, these services enable students to make a gradual adjustment to the academic-Hebrew environment.

Additionally, a new program which is now being offered only to the Arabic-speaking population, is designed for 100 hand-picked students who have demonstrated excellence. Students selected for this program will not only receive a full scholarship for their studies, but a living stipend as well.

The Open University programs are part of a national effort to advance the education of Arabs and to expand professional opportunities.

To date the University has translated 11 books. Prof. Mustafa Kabha, Head of the Department of Sociology, Political Science and Communication, believes that these services for students whose mother tongue is Arabic, "will make it easier for them to continue their studies in Hebrew and ameliorate their academic achievements."

Many of the students admit that the Hebrew-language poses a problem for them. "I helped new students and saw how difficult this was for many of them," Amani Aftima, an Arab student studying for her undergraduate degree at the Open University, reports. "Every student has the capability, desire and interest to learn, but the language can be initially daunting."

Says Prof. Hagit Messer-Yaron, President of the Open University, "The Open University of Israel has introduced a number of special programs to facilitate the learning experience of the Arabic-speaking community. We are committed to making higher education a part of their lives, advancing their studies as well as their professional status."