Getting Hotter All the Time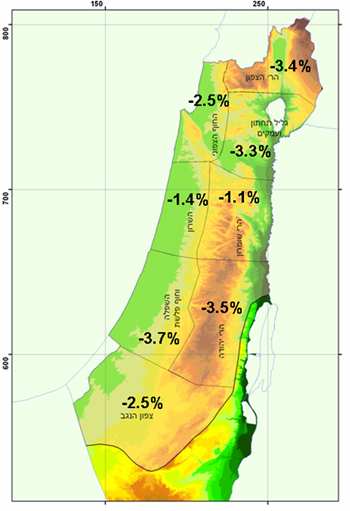 ...continued from previous page.
Planning Resources
The researchers used a number of statistical models, largely drawn up by the Ministry of Environmental Protection in 2008. Anecdotally, many of the maps plotted at the meteorological services were done so by former students of Dr. Ziv.

But the major source of data gathered by Dr. Ziv's team was from 100 temperature stations and 400 rain stations throughout the country, making this one of the most comprehensive meteorological research studies of climate change conducted to date.

The statistical analyses were conducted by Dr. Ziv's team, using the latest diagnostic tools, which Dr. Ziv explains, "are constantly changing and will probably have to be re-examined in five years time." In the meantime, the Ministry of Environmental Protection has distributed the study to institutions, research centers and individuals throughout the country.

However, by analyzing data according to individual meteorological stations, Dr. Ziv and his team were able to plot detailed changes per region. Researchers found that desertification is increasing.

All of these changes in weather will have wide-ranging ramifications on resource allocation, agriculture, electricity supplies, housing, to name but a few.

What can we expect in terms of heat on a regional basis?

Dr. Baruch Ziv: "We came to some interesting conclusions. Our nights and days, from May through October, will be much hotter – not just in the center of the country, but also, surprisingly in the mountainous regions as well. Jerusalem will be slightly hotter during the nights, and much hotter during the days. The 'hot' spots will be places like the Kinneret, Eilat and the Shfela (Tel Aviv, Petah Tikvah, Ra'anana, Kfar Saba, Netanya, etc.)"

How reliable are these statistics?

Dr. Baruch Ziv: "I do have some worries about the statistics. There are statistics that go crazy, such as 1998 which was the driest season and 2010 which was the hottest year in the history of Israel. There is so much new technology coming into the marketplace that we will need to be updating our models within five years."

How will these changes impact on our resources?

Dr. Baruch Ziv: "One of the key areas that will be impacted will be agriculture. We may have to consider where we grow our fruits and vegetables. Perhaps avocado trees will be moved to the center of the country, and we'll have to invest greater resources in genetic engineering. As the intervals between rain spells increase, we will have to consider watering crops in the winter, which means tapping on more water resources. This will also impact how we can best supply recycled water to agriculture and ensure that we continue to conserve our water supplies.

We will also have to consider electricity supply and how to effectively service the 'intense' areas such as the Gush Dan (central) region which is heating up and requires more electrical supplies as 60% of Israelis live here."

In conclusion, the study indicates a definite exacerbation of Israel's climate: summers will be hotter, heat waves will increase, the rainy season will be shorter, and the intervals between rainfalls will be longer.

All of these changes will require effective planning and distribution, and with this newest study in hand, Israel will need to review these statistics in five year's time, in order to effectively track the changes and gain greater statistical confidence.